Kevin Gatland
kgatland@snet.net
---
Hello, and welcome. I'm not sure how or why you found this page, but its good to have you. If you were looking for some personal info, here it is:
I am originally from North Merrick, Long Island, New York, and now reside in Honolulu, Hawaii. From one island to another, I suppose, but not directly. I graduated from The University of Connecticut's (go Huskies!) School of Pharmacy, worked at Saint Francis Hospital in Hartford for a while, then moved out here to Honolulu. So far I have absolutely loved it here. I originally lived in a great apartment on Ala Moana with an outstanding view of the beach (click here if you want to see the full view I had, from the Pacific Ocean on the left to the Punchbowl Crater on the right) and even managed to find a job as a pharmacist at the Queen's Medical Center. Income is a definite necessity in a place like this! Now I live in a much more affordable building which borders Queen Liliuokolani Gardens in Nuuanu. I still have a pretty nice view out the back: pic 1, pic2, pic 3, and get sunset views in the front.
As for hobbies, I enjoy skiing, mountain biking, SCUBA, and a variety of other sports, especially basketball. I have also been collecting old video games for quite a while now, although since I didn't bring any of that with me here, that little interest has been replaced by going to the beach. I think I'll live. If anyone else out there has any interest in classic video games, though, feel free to contact me or just check out my Atari 2600 page listed below.
Here are a couple of pictures of me. The first is from a cruise I took last year, the next was taken when I was at the Grand Canyon, this one is from a trip to Maui, here is one of my fiancee, Julie Goetter, and me at the beach, and this last one is of us by the sea arch at Laie Point on Oahu's windward shore.
Don't be afraid to check out some (or all) of my links, either. I tried to include a wide range of topics for people of all interests. Hey, you may just find something that interests you! Have fun.
Any comments, ideas, etc., feel free to e-mail me.

---
Click these for Pleasure

Tripod--Build your own homepage!
Long Island Bands
NY Yankees on-line

nine inch nails links
The Dilbert Zone
Calvin and Hobbes
Doonesbury Town Hall

Bizarro
Do you like to ski?
Pharmacy Stuff
CMJ new music monthly
If you have a Mac, don't miss Francois Pottier's page. It contains software he designed himself and some outstanding photos. For example, check out his directories of Mercantour and Corsica. He also has many great links to other photography pages, including Kodak and The Scenery Channel.


I drive a dark green 1999 Mitsubishi 3000GT. Here is a picture of this model I found on the net: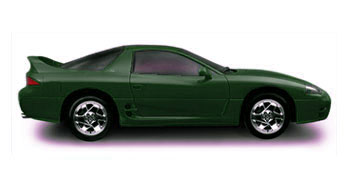 I also have a black 1997 Toyota Tacoma 4x4 pickup. For pictures of my cars, click the following links: the 3000GT in Utah,, in the Badlands, SD (where no such car belongs), the Tacoma (for sale if anyone is interested), both cars (front), and the 3000GT next to my roommate's Kawasaki Ninja in Hawaii. Not bad, eh?
Many of those pictures car pictures came from my recent cross country trip. We packed up the car and started off in Tolland, Connecticut (thats my girlfriend, Julie, in front of the sign), and traveled through Massachusettes, New York, Canada, Michigan, Indiana, Illinois, Wisconsin, Minnesota, South Dakota, Wyoming, Colorado, Utah, Arizona, Nevada, California, and ended the journey in Honolulu, Hawaii. (The last leg of the journey was aided by the use of an airplane and freight ship.) I will continue to add more pictures as soon as I get the chance to scan them, but for now, here they are:
Features shots from all of the states I traveled through on my trip cross country in September of 2000, plus many photos from the four main Hawaiian islands. Check them out and let me know what you think!
Search Engines:
Yahoo
WebCrawler
Infoseek Guide Great for locating e-mail addresses, too!
MetaSearch
---
Congratulations! You are visitor #

on this phat mamajama. Got it? (don't YOU feel special?!?) Well, it means nothing. This stupid counter keeps resetting itself.